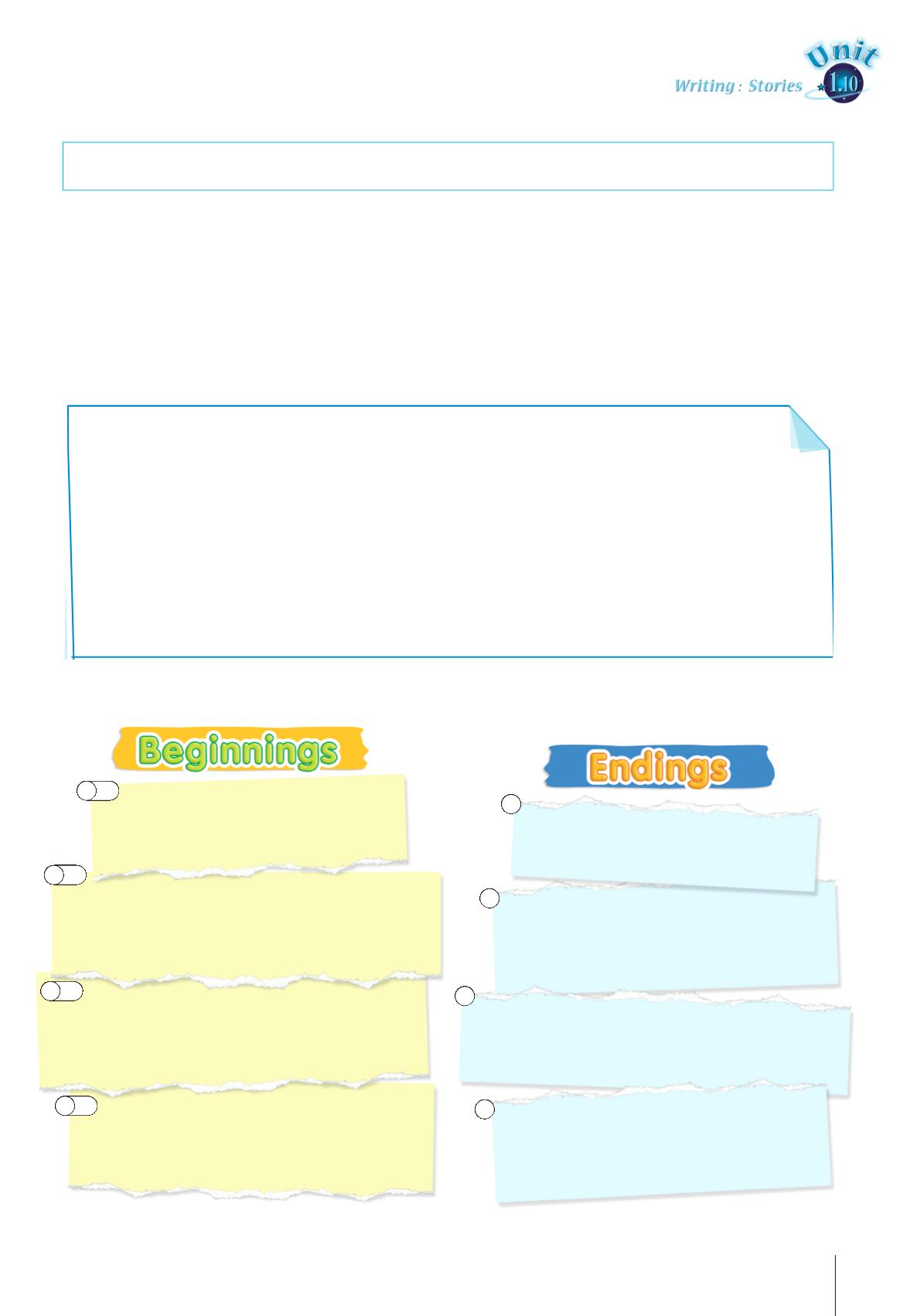 1
The boy looked at me and smiled. I had saved his
life. I felt so . . . . . . . . . . . . . . . . . .
2
She was badly hurt. There was nothing I could do
to help her. I was so . . . . . . . . . . . . . . . . . .
3
I knew the vet had done his best, but he couldn't save
my dog. I wanted to cry; I felt really . . . . . . . . . . . . .
4
Everything she had told me was a lie. I was very
. . . . . . . . . . . . . . . . . with her and I could never forgive
5
He waved his mother goodbye as she entered the
coach. Suddenly, he felt very . . . . . . . . . . . . . . . . . .
4
Read the following story endings which describe how the characters feel. Fill in the gaps with the
adjectives:
,
,
,
,
.
Stories should illustrate how the characters feel.
them more interesting to the reader and brings the characters to life.
• Beginning and ending a story
The beginning and ending of a story is very important.
A good beginning will stimulate interest and make the
reader want to continue reading the story. A good
ending will give the reader a sense of satisfaction.
Ways of starting a story:
a
creating atmosphere by describing the weather,
people, setting the scene, etc
b
using direct speech, either a statement or a
c
expressing someone's mood or feelings
d
directly addressing the reader
e
asking a rhetorical question
Ways of ending a story:
a
b
asking a rhetorical question
c
describing your reactions, feelings or mood
d
describing other people's reactions or feelings
e
creating a feeling of suspense or mystery
Remember that more than one technique may be used
"Bob, what's that over there?" Jack sounded
nervous as he pointed towards the trees. I
looked. What was that pile of clothes?
Why is it that the most important things happen when we
don't expect them? The sun was shining as they walked
through the jungle. Everybody was nervous, especially
James Johnson. The scientist had been working all his life
to find the lost tomb of Itawa, the ancient Brazilian god.
Have you ever been to a haunted house? Brian stood in
the dark, deserted street looking up at the haunted
house. He wondered why he had agreed to go inside
since it made him nervous. He had no choice, though,
The train had not moved for some time. We were
worried. It was becoming hard to breathe as it was
extremely hot in the carriage and the air conditioning
had stopped working ages ago.
5
Match the beginnings (1‒4) to the endings (A‒D), then decide which techniques have been used in
each.
When we got out into the fresh air, we felt
relieved. We were safe at last.
He ran away as fast as he could. He wasn't sure
about what he had seen but he knew he would
never go near that house again.
When the doctor told us we had saved the man's life
we were glad. It was lucky that we had gone to work
a little earlier that winter's morning.
James was tired. "OK, so it wasn't in this valley,"
he thought, "but I know it exists. I'll just have to
keep looking." He walked back to the camp,
anxious to start his search again.
A
B
C
D
6
Write a beginning and an ending for a story entitled
"A Day to Remember."
Use any of the techniques
above.
1
2
3
4