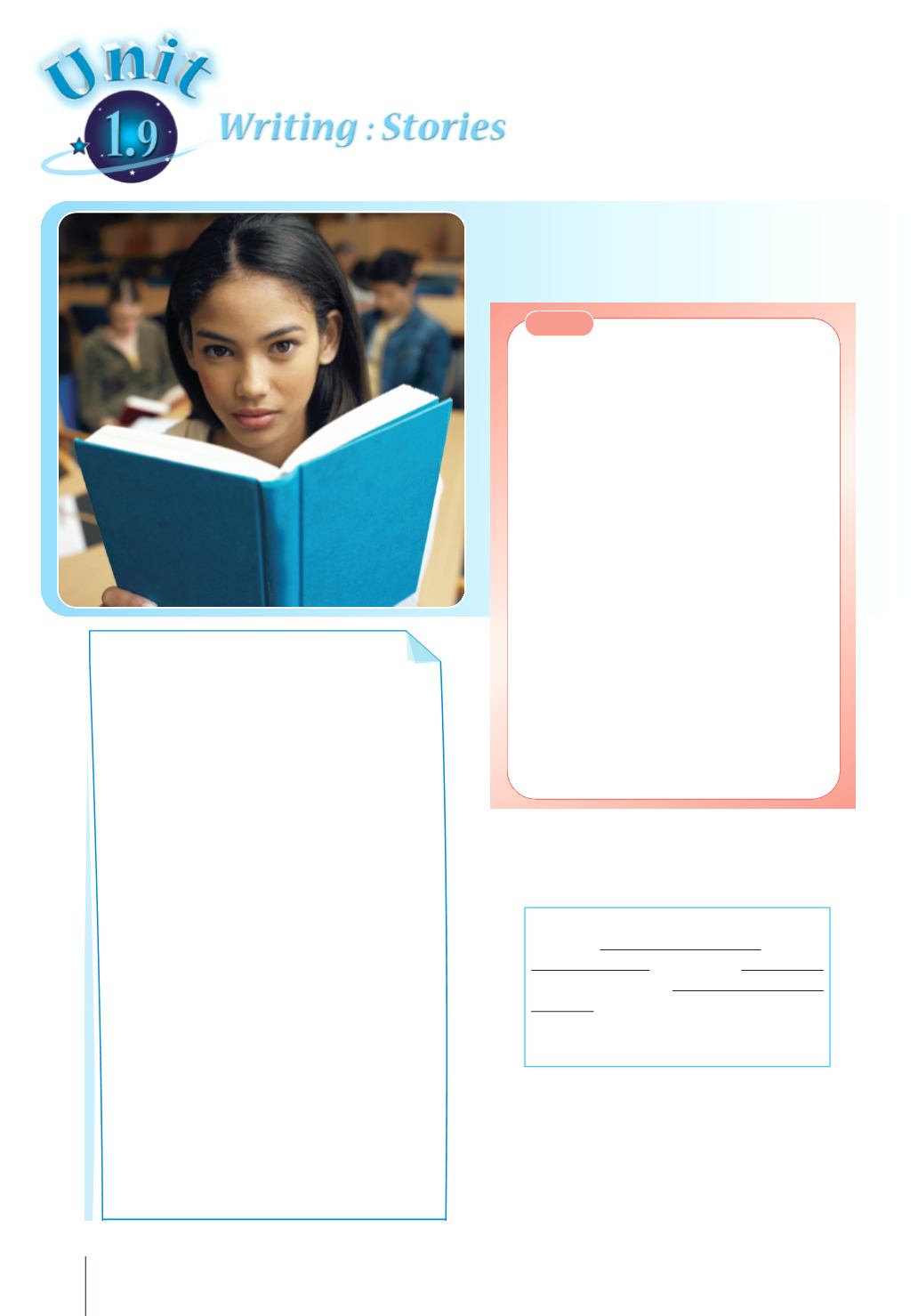 Introduction
Para 1 Set the scene
weather, time, atmosphere,
people involved, possible
Main Body
Para 2 Before the main event(s)
(incidents leading to the main
Para 3 The main event(s)
the main event(s), people
involved, more details and the
* The main body may include 1‒3
Conclusion
Para 4 End the story
reactions, feelings, etc)
PLAN
1
Read the rubric and look at the underlined
key words. Then answer the questions below.
1
What are you going to write?
2
Who is going to read your piece of writing?
3
Who will the main character(s) be?
4
What can the story be about?
5
What words must you use in your writing? Where?
6
How many words must you write?
7
How can you begin your story?
Your teacher has asked you to write a story
about a frightening experience for the
school magazine. The story must begin
Write your story (140‒190 words).
• Stories can be written either in the first or
the third person and present a series of
events, real or imaginary.
• We normally use past tenses in stories.
stood
on the deck looking out to sea as the ship
was leaving
• When writing a story, we need to keep a time
sequence in mind. Stories describe a sequence of
events which need to be linked with appropriate
First
Then/Next
After/Before (that)
During/Meanwhile
Finally
As soon as
The moment that
As
No sooner ...
than
Hardly ... when
Immediately
Since
While
Until
By the time
As long as
stood up and walked towards the door.
Meanwhile
, Stella was poking the fire.
• Using a variety of adjectives (
, etc) will make our stories
more interesting to the reader.
carefully
approached the empty house and knocked on the
wooden
• We can use descriptions of people, places or
objects to create atmosphere and emphasise
specific parts of the narration.
cheerful little girl
smiling shyly
• We can use direct speech to make our stories more
e.g. "What's this?" she asked.