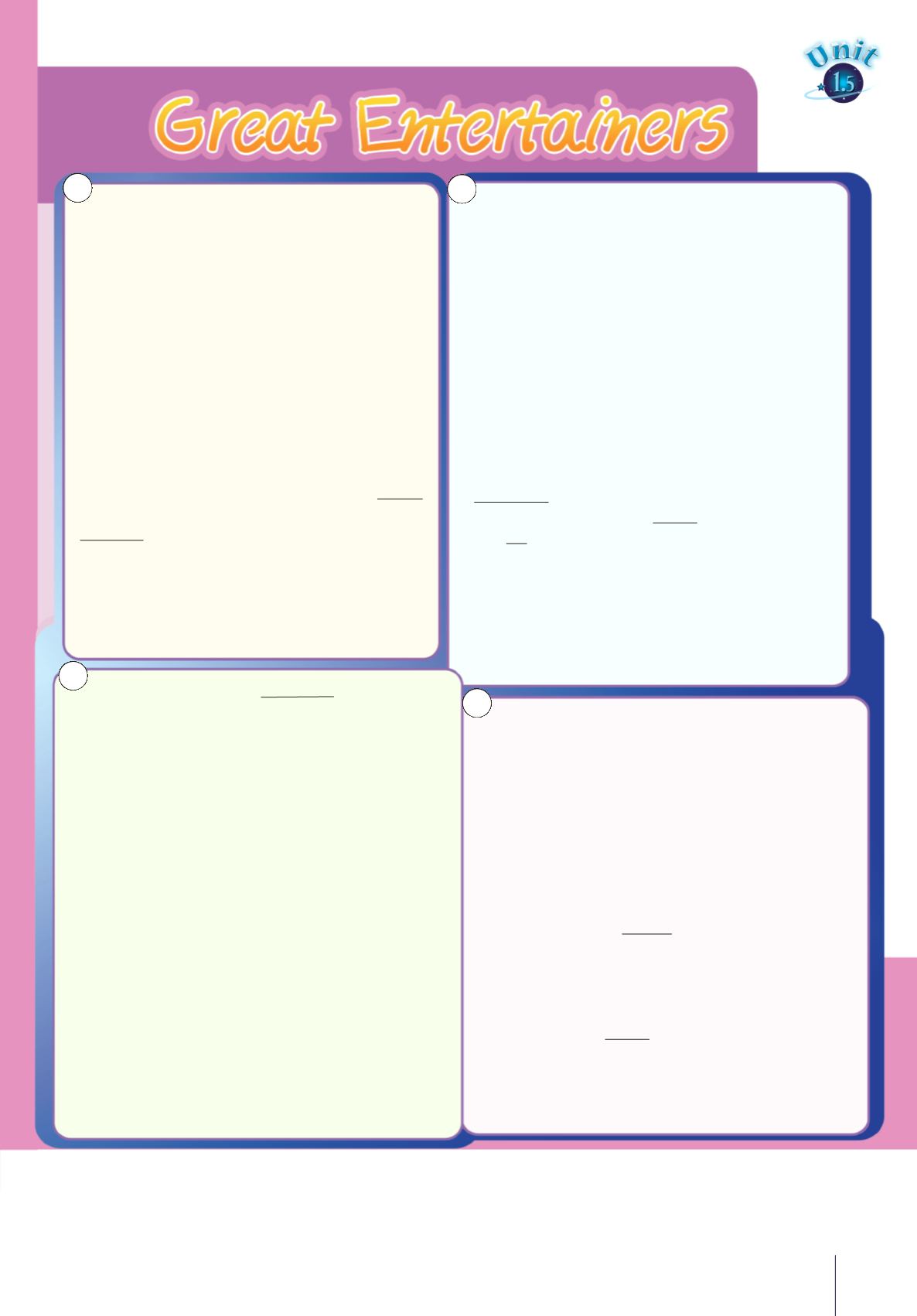 6
Work in groups. Choose a
person from the text and
present him/her to the class.
5
Match the words in bold to their meanings. Use the words
in bold to make sentences about the performers.
A
udiences around the world consider David
Copperfield to be the greatest magician of our time.
Copperfield was born in the United States in 1956. He
began performing magic at the age of 12 and became
admitted
American Magicians. At 16, he was teaching a magic
course at New York University. He then began singing
and performing magic on stage in Chicago. At the age
of 19, he was given a break in television with his own
show. His career in the world of entertainment was
Since the 1970s, Copperfield has performed in Emmy
award-winning television programmes, stage plays,
films and personal tours. He has travelled around the
elevated
the art of magic to new heights.
In addition to performing, he created a critically
broke all box-office records during its run in New York
City. "The secret," says David, "is to consider nothing
impossible, then start treating possibilities as
probabilities. If I am in the impossible business – and I
am – then I want to go beyond impossible."
C
harlotte Church has an exceptional talent. By the
time she was 11 years old, people were talking
about the little girl with the big voice. Her break came in
1997 on a television show in Britain and was quickly
followed by her show-stealing performance on a
televised talent programme. Church
released
youngest artist to have a number one hit in the classical
charts. The young Welsh girl from Cardiff had become
an instant success in Britain as well as North America.
Her fame spread quickly and she was offered a number
options
. The young soprano travelled around the
world, doing live performances alongside legends like
Pavarotti and Julie Andrews. By the time she was 16,
Church had completed a number of albums, including a
'Best of ' album. Church has also
expanded
to include cameo appearances on popular television
programmes and a few small roles in feature films. She
currently
taking a break from singing, and working
on her own television programme, entitled
J
im Henson will forever be remembered as the person
behind some of the most famous puppets in the world.
His best-known creations include such characters as Elmo,
Big Bird, Bert and Ernie, Miss Piggy and especially Kermit
Born in 1936 in the United States, Henson grew up loving
puppets. In those days, most puppets were simply painted
wood with no actual character or emotion. Henson
designed puppets made of flexible, fabric-covered foam
rubber, with big soft bodies and large mouths, which
made them more realistic. He was given an opportunity to
perform on a local television show, which quickly
launched
By 1970, Henson had developed a popular children's
educational television programme, called
The programme became an instant success and led to his
Over the years, Henson expanded his company to include
a wide variety of children's programmes and educational
materials, including books, music, television shows and
feature films. His work is known and loved worldwide.
Jim Henson died in 1990, after
devoting
years of his life to his craft.
W
e have all been amazed and impressed by
acrobats and jugglers, mostly men,
tossing
around a variety of objects. However, a woman has
recently taken centre stage in this male-dominated
form of entertainment. Her name is Meike Fromm and
she is from Germany, though she left there many years
ago. Her stage name is Mika, and she is considered the
best female juggler in the world.
As a dancer, Mika trained in modern dance, jazz and
belly dancing. She holds a Master's degree in Physical
Education and is a certified teacher. She has worked
with children with special needs in the New York City
Since 1995, Mika has performed in circuses and live
shows as an entertainer around Europe as well as the
United States. Her unique style has allowed her to move
beyond the standard style of juggling and add a
theatrical touch to her performances. "I love my art,
and I am just so very pleased to have the opportunity
to share it with others," says Mika.