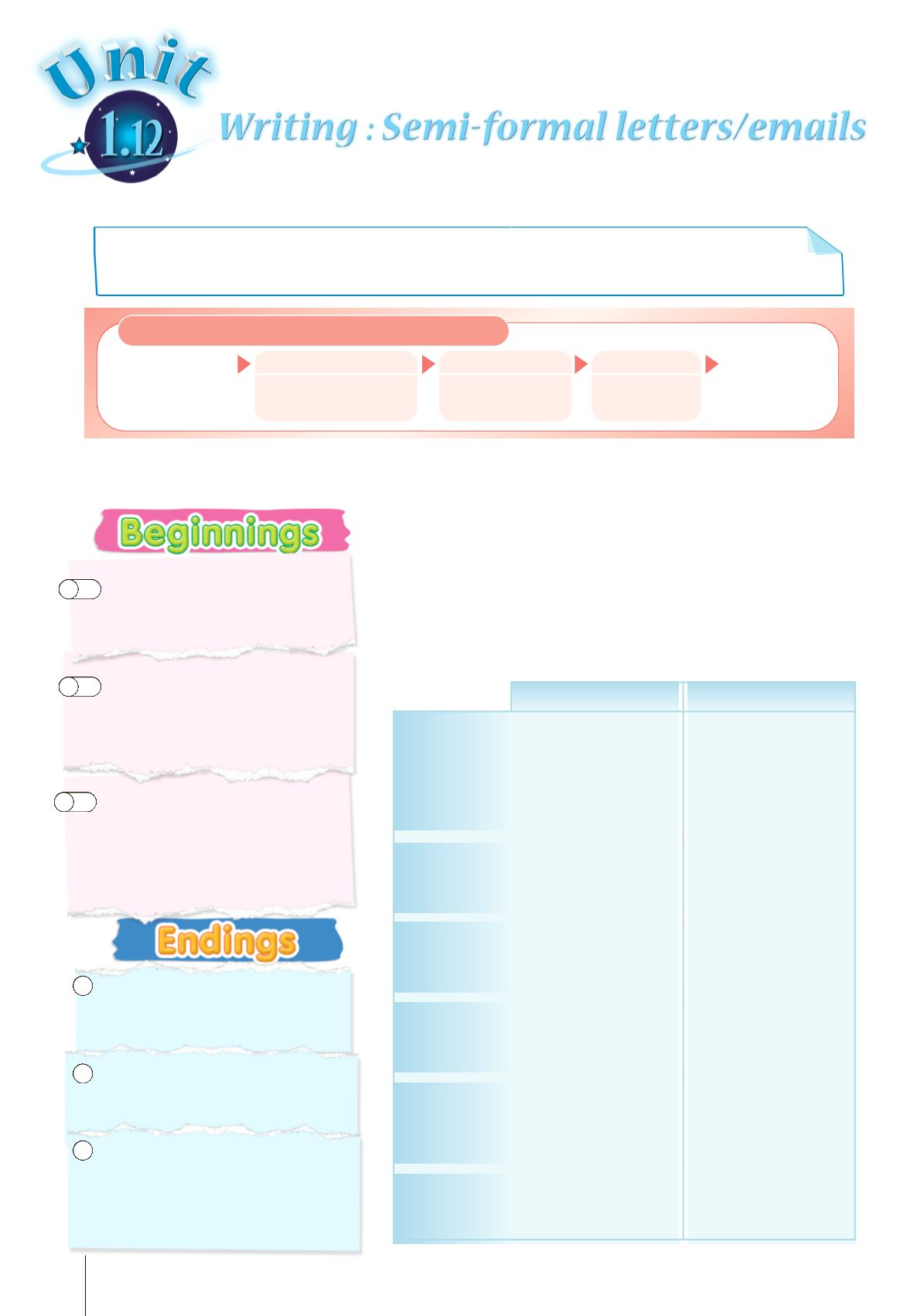 General Outline for semi‒formal letters/emails
opening remarks,
reason(s) for writing
subject(s) of the
letter/email
closing
remarks
Regarding your school's forthcoming
exchange trip to our town this summer, I
would like to provide you with some details
in order to help you begin planning the trip.
As you may already know, your son Adam's
friends are planning a surprise party for his
16th birthday. Therefore, I would like to
invite both you and your wife to the party
which will be held on Saturday, 5th June
Once again, thank you very much for
taking the time to come and talk to us.
B
C
2
3
Please feel free to contact me via phone or
email if you have any other questions or
concerns. My class is really looking forward
I am writing on behalf of the students of
Class 2B to thank you for coming to our
school to give the talk on Internet safety.
1
I hope that you are both able to come. I can
be contacted at the email address above.
A
1
Match the beginnings to the
endings. What type of letter/
email is each?
Semi-formal letters/emails
are sent to people you don't know well or when you want to sound more polite and
respectful. For this reason they are written in a polite tone (see p. 22). They can be letters/emails asking for/giving
advice, asking for/giving information, explaining arrangements, expressing thanks, etc.
2
Match the semi‒formal sentences to the informal ones.
A
I am writing in the hope that you can help me.
B
Please could you give me some information about suitable
C
I would like to thank you for your kindness during my stay.
D
It would be a good idea if you did some extra Maths classes.
E
I am sorry that I will be unable to come.
F
I hope you will find this information useful.
INFORMAL
SEMI‒FORMAL
1
2
3
Thanking Thanks for being so
4
5
6
• Semi-formal letters/emails