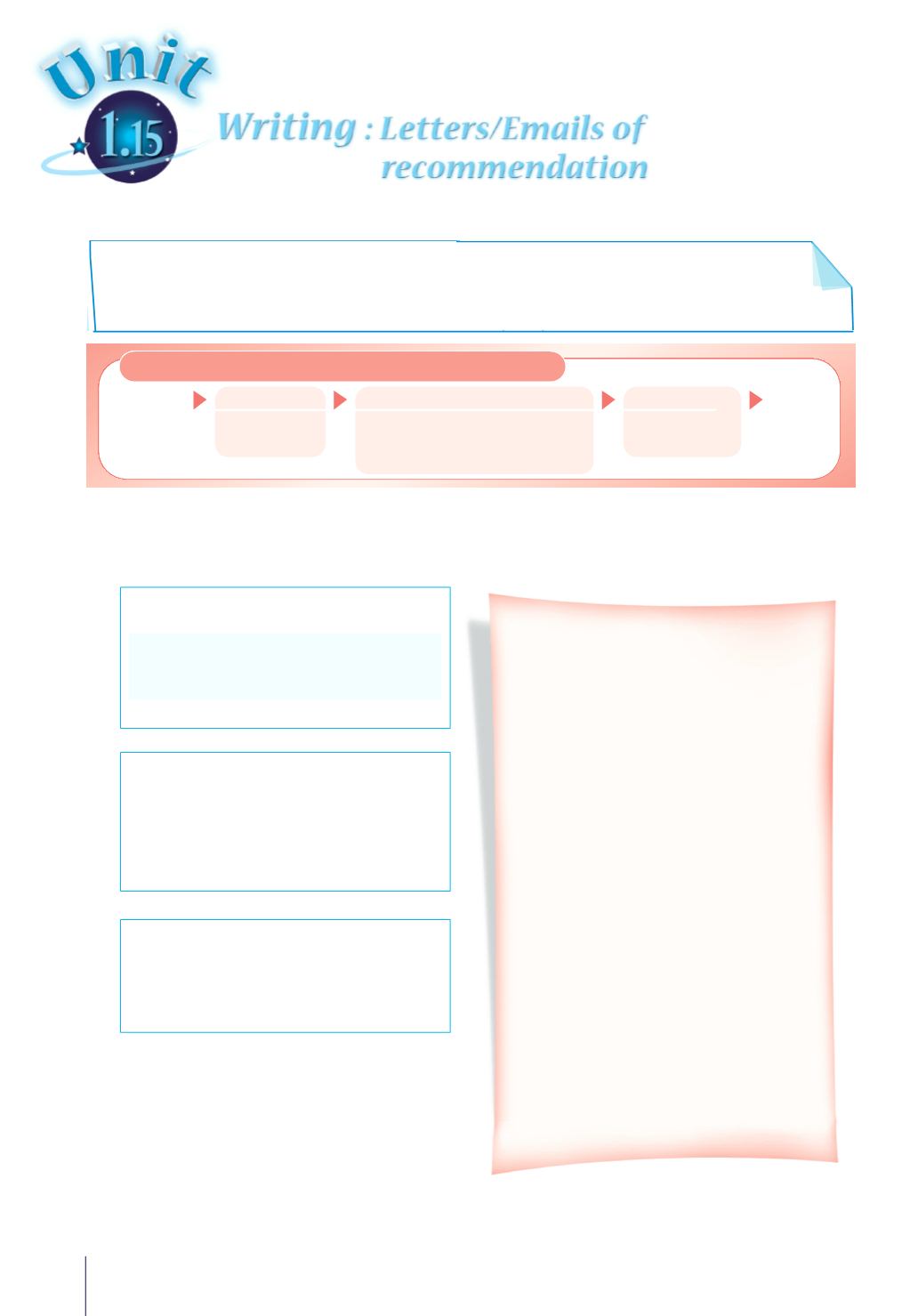 1
Read the rubrics and underline the key words.
What is the topic of each?
Letters/Emails of recommendation
are written to recommend a person for a post, a place for an event to be
held, etc. These letters/emails usually contain descriptive techniques e.g. if you recommend a person, you need to
make reference to qualities related to the topic and give examples or justifications. These types of writing can be formal
or semi-formal depending on who the letter/email is addressed to.
General Outline for letters/emails of recommendation
reason(s)
for writing
recommendation (qualities/
features with examples/
justifications)
closing
remarks
• Letters/Emails of recommendation
As you are aware, the pupils of Fairview School
plan to hold an end-of-term party next month.
I am writing on their behalf to suggest a
The size of the location is obviously a main
priority, as approximately 150 people are
expected to attend. The Beaufort Hotel's
function room appears to be a good option,
since it is extremely spacious, holding up to
200 people. In addition, the huge dance floor
would ensure sufficient room for sound
Another important factor is the catering. The
hotel can provide light refreshments at a
reasonable cost, which would be convenient.
All things considered, I wish to recommend the
Beaufort Hotel as a suitable location for our
party. I would appreciate it if you could inform
us of your decision on the matter as soon as
2
Read the model. Which rubric from Ex. 1 does
it match?
You see this announcement in the school
Write your review (140‒190 words).
Which is your favourite book? Why do you
like it? Write us a review nominating your
A
B
C
The local youth centre has asked its members to
nominate people for the 'Teenage Personality of
the Year' award. Write your letter to the youth
centre recommending someone and giving
reasons for your recommendation (140‒190
The school committee has asked pupils to
recommend a place to hold an end‒of‒term
party. Write a letter recommending a place,
saying why it would be a suitable venue for the